With 50 years' experience, and based in the North West with 3 fully secure warehouses and excellent transport links, Fred Davies Storage could be the answer to your Pick and Pack requirements.
Over the last few years we have adapted to the growth in e-commerce by investing in a state-of-the-art warehouse management system (WMS) which has full product traceability and marketplace integration with the leading online shops, such as Amazon, Shopify and e-bay, allowing orders to automatically drop in once placed online.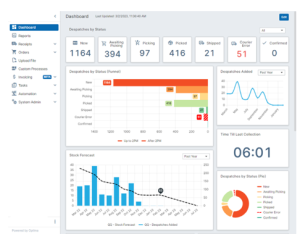 We can also offer the facility of our customisable online customer web portal, where you have the opportunity to upload or manually enter, edit and view your own orders and receipts, see stock reports and KPI's, and track your orders from pick through to dispatch.
With our customisable WMS we will be able to meet all your customers' needs, providing you with an excellent service, a high accuracy rate and ensuring your customers receive their orders on time.
How does the Pick and Pack operation work?
Orders can either be uploaded via csv file or placed online, and automatically drop into the WMS. There is also an option for our dedicated customer service team to manually raise the order within WMS should you require this.
The orders are then prioritised according to your needs, and are picked by highly skilled members of the team.
These are then packaged according to your requirements, be that in a box with the appropriate packing materials or wrapped and strapped on a pallet, all with the appropriate labels and documentation.
We can then liaise with your chosen haulier, either personally ourselves or through Integrated Couriers, which allows our WMS to automatically communicate with the likes of Royal Mail, DPD and UPS, and book consignments on your behalf – ensuring goods are collected and delivered on the date you have requested.
Our Pick and Pack warehousing facilities are based in St Helens, providing services in the North West and have close links to Liverpool, Manchester, Warrington, Runcorn and Wigan.