Fred Davies has accumulated over 100 years' experience and expertise in the warehousing and distribution business.
Fred Davies (Storage) Ltd. was established by Fred Davies and three of the former employees of Fred Davies (St Helens) Ltd. (formerly Davies & Brownlow) which was a well-known haulage company serving the fruit and vegetable markets in the UK from 1920 until the early 1970's.

The company has expanded over the years and now has warehousing & distribution facilities of over 140,000 sq. ft in St. Helens and 35,000 sq. ft in Newton Le Willows, offering both bulk and racked storage options.
The company has always recruited locally and has a very experienced team of professional, highly skilled and loyal employees.
The original policy of the company was to provide businesses with a high-quality service at competitive rates and we continue to base our entire business policy and success on this precept.
Today Fred Davies offers a wide range of logistics solutions to the food, manufacturing, beverage, retail and pharmaceutical industries.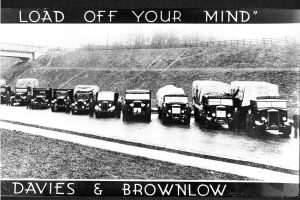 'Picture of Davies & Brownlow's fleet taken on the new East Lancashire Road prior to the official opening by King George V on 18 July 1934'
The A580 (officially the Liverpool–East Lancashire Road, colloquially the East Lancs Road) is the United Kingdom's first purpose-built inter-city highway. The road, which remains a primary A road, was officially opened by King George V on 18 July 1934. It links Liverpool to Salford, 3 miles west of Manchester city centre.
The road was built to provide better access between the Port of Liverpool and the industrial areas of East Lancashire around Manchester. The new high-quality trunk road would supersede the indirect and heavily built-up A57 through Prescot, Warrington and Eccles. Journey times for road haulage would be reduced to under an hour.